Wyckoff, New Jersey's Professional Restoration & Pressure Wash Cleaning Service
Professional, Damage-Free Exterior Restoration
Are you a property owner in Wyckoff New Jersey? Are you looking to help make sure the exterior of your property looks fantastic? Then call Hydro Eco Clean today! Our pressure washing service will make your Wyckoff property clean and appealing.
Professional, Damage-Free Exterior Restoration & Pressure Washing
Are you a property owner in Wyckoff New Jersey? Are you looking to help make sure the exterior of your property looks fantastic? Then call Hydro Eco Clean today!
We are a Wyckoff, New Jersey exterior restoration firm that understands the importance of getting the job done just right. We spend a lot of time working with our clients to find a suitable solution for cleaning their homes and businesses, helping them to make their property within this wonderful township of Wyckoff, NJ even more enjoyable to live in.
While the weather here in Wyckoff is very welcoming indeed, the exterior of your property will often fall victim to the elements. From airborne roof stains and moss, to pool patios and wood decks becoming dangerously slippery with algae, you can find that everything from the siding to the pavement needs proper care.
If you're a resident of Wyckoff, New Jersey and want to help improve the quality of your property, contact Hydro Eco Clean today. We have a team of specialists in the area who can provide a wealth of knowledge in all exterior restoration services. Our restoration and pressure washing services can make your Wyckoff home or business look fantastic.
From cleaning your gutters and decks to making the concrete and paving look fantastic, we use a variety of options to help optimize the quality of your property. This helps to increase the value of the property as well as raise the aesthetic appeal to make it more likely to be welcoming to all.
Sound like the service you need? Then contact us ASAP; we'll arrange the perfect way to help transform the exterior and restore it to its previous glories.
Services We Provide in Wyckoff, New Jersey
House Washing: We'll keep your home's exterior clean and protected from the damage that dirt, mildew and mold can create, no matter the type of surface.
Roof Cleaning: A roof that isn't cleaned will soon build-up its fair amount of moss, algae and airborne stains. Let us step in and clean the roof up for you, making sure it's safe, in good condition and isn't allowing for breeding ground for the case of the 'uglies'.
Concrete Cleaning: Dirty concrete is a real eyesore and potential dangerous we can use our pressure washing and exterior restoration skills to help get your concrete looking like new once again.
Graffiti Removal: If you are dealing with a mess left by some troublesome teens, then we can help to clean up that 'street art' in a matter of minutes with our detergents and hot water pressure watching in Wyckoff, New Jersey.
Gutter Cleaning:  Don't let those gutters get excessively full and become a problematic issue for your household. Invest in some preventative care with our gutter cleaning service!
Deck Cleaning: Never put your health at risk by using a deck that isn't totally clean. A dirty or sliding deck can be quite a dangerous problem, and we recommend that you look to avoid this issue by using our deck cleaning expertise.
Wood Restoration: Rotten wood isn't just aesthetically horrifying, it's asking for problems with mold, mildew, insect infestations and loss of efficiency. We can help you out with a professional wood restoration service, bringing the exterior back to life.
Paver Cleaning: Get your pavements nice and clean and make sure the entire exterior of your house looks as good as new. A must-use service for anyone looking to help add some extra energy to the overall presentation of their property which paving can do.
I wasn't really sure how much of a difference a washing would do for me, but my house looks amazing and the deck looks like it's brand new! Sal was professional, efficient and really helpful overall. Thanks so much and I'll be calling you again, for sure!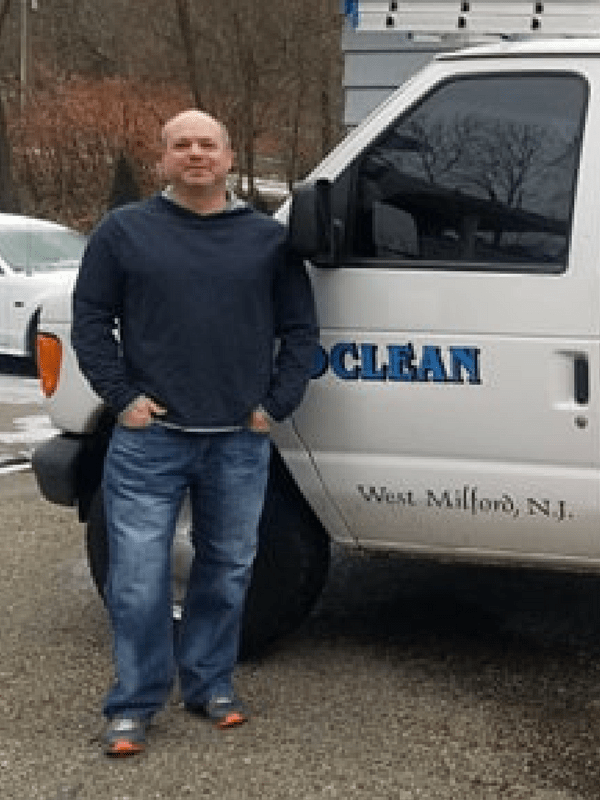 Contact Us Today
Does this sound like the kind of service that you think your Wyckoff, New Jersey household or property needs? Then contact us today! We'll be more than happy to take a closer look at the kind of cleaning services you need, and then clean the exterior with pressure washing to make your Wyckoff property look as good as new!